Annual General Meeting – 2019
69th Annual General Meeting of the United Nations Association was held on 23rd March, 2019 at the National Secretariat, 39/1, Cyril Jansz Mawatha, Panadura following hoisting the National Flag by Executive Chairman – Mr. M. M. Zawahir, the UN Flag by the Secretary General Mr. Errol G. Smith . About 100 members were present at the Annual General Meeting. The National Anthem was sung followed by two minutes silence being observed as a mark of respect of those members who passed away. They were remembered in particular for their contribution to the Association. Welcome address was made by the Executive Chairman Mr. M.M. Zawahir. Secreatry General Mr Errol Smith, made presentation on various activities carried out by the UNASL for the year 2019/2020. The report of the Annual General Meeting of March 2018 and the Financial Report were presented and approved by the members.
At the AGM Major General Upul Perera was elected unanimously as President by the members . The elected members of the National Executive Committee took their oath of office collectively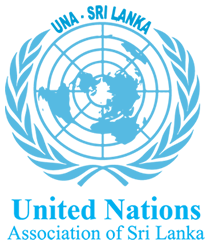 United Nations Association of Sri Lanka.
The National Secretariat General
39/1, Cyril Jansz Mawatha,
Panadura, Sri Lanka.
Phone : +94 38 2232 123
Email: secretarygeneral@unasrilanka.org