Kofi Annan Secretary General of  United Nations passed away  aged 80  in Bern Switzerlznda few days ago.
Born to a wealthy family in Kumasi in Ghana, he had his early education in Kumasi it self, and  completed his undergraduate studies in Minesota USA .  He completed is his graduate studies in Geneva Switzerland.  and also earned a Masters Degree  from the MIT  in  the USA.
He was one of the few Secretaries- General who moved upwards in the UN  system itself. Joining  the United nations Economic Commission for Africa and later   working  for the UN Office of Refugees in Geneva before moving into more important assignments at UN Headquarters in New  York.
He was appointed as the Secretary General of UN in January  1997 and completed two five year assignments  ending in  2007.  after wards he was involved with many assignments with the UN.
 He was awarded the Nobel prize for Peace in 2001 for his dynamic  contribution towards maintaining peace in troubled world order. His contributions towards the world community are too many to be listed in a  note of this nature.
 Current S-G Antonio  Guterres in  a statement  stated that  "It is with profound sadness that I learned of his passing. In many ways, Kofi Annan was the United Nations. He rose through the ranks to lead the organization into the new millennium with matchless dignity and determination."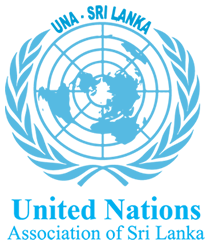 United Nations Association of Sri Lanka.
The National Secretariat General
39/1, Cyril Jansz Mawatha,
Panadura, Sri Lanka.
Phone : +94 38 2232 123
Email: secretarygeneral@unasrilanka.org