UNA NEWS LETTER – July – December 2017
National Observance of the 72nd United Nations Day
United Nations Association of Sri Lanka conducted the National Observance of the 72nd United Nations Day at a function at the Bishop's College Auditorium, Colombo 3 on 22nd of October 2017 with the distinguished participation of Brigadier Granville Elapatha as the Chief Guest, Dr. Shiran Deraniyagala, as the guest of honour, Members of the Diplomatic corps, UN representatives, Members of UNASL and other distinguished guests. Teachers and students from many Study Circles of UNASL around the country also participated. The function commenced with the National Anthem. Around 1000 participants from all walks of life. Participated the special invitees and dignitaries present, appreciated the work of the Association throughout the year.
Welcome Address was made by the Executive Chairman of the Association Mr. M.M.Zawahir. The copies of the UNASL Annual 2017 were ceremoniously handed over to the Chief Guest, the Guest of Honour and the other distinguished invitees. The outstanding feature of this ceremony is giving many opportunities to students to showcase their talents in the presence of a large audience. The keynote address was delivered by Miss U. R. M. Vidya Nayani Senevirathne a student of Christ Church College, Matale who was the winner of the Annual speech contest conducted by the UNASL. Her speech was on International Year of Sustainable Tourism for Development which was the UN Theme for the year 2017. Cultural Items were presented by Estrella Club of Colombo University, Toastmasters Gavel Club and OKI International. Video presentation was made on the activities of the Study Circle of Mahinda Collage, Galle which was awarded as the best Study Circle. Awards were also distributed to the Best Teachers in Charge of Study Circle, the winners and runners up of the Speech Contest, the Quiz Competition and Essay Writing Contest. Duty Executive Chairman of the UNASL Dr. M. M. M. Rushanudeen was awarded Volenteer of the year award 2017. The Secretary General Mr. Errol Smith delivered the vote of thanks.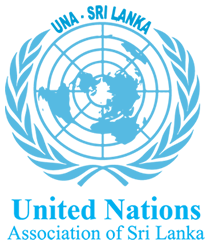 United Nations Association of Sri Lanka.
The National Secretariat General
39/1, Cyril Jansz Mawatha,
Panadura, Sri Lanka.
Phone : +94 38 2232 123
Email: secretarygeneral@unasrilanka.org