WFUNA Foundation Launches in India
New Delhi, India — WFUNA is excited to announce the launch of the WFUNA Foundation in India. On March 3, Indian External Affairs Minister, Hon. Sushma Swaraj, and the Director of the United Nations Information Center for India and Bhutan, Ms. Kiran Mehra-Kerpelman, joined WFUNA's Treasurer, Mr. Sundeep Bhutoria, and Indian Federation of United Nations Associations (IFUNA) Secretary-General Mr. Suresh Srivastava at the launch event in New Delhi. Other esteemed guests included industrialist Mr. H.M. Bangur, Mr. Parvesh Khanna, and several members of India's Foreign Ministry and IFUNA.
The purpose of the WFUNA Foundation is to further WFUNA's activities and initiatives in India, a long-time supporter and member of the United Nations. The Foundation will support the implementation of programs and projects that highlight and spread awareness on issues ranging from human rights to sustainable development.
"I believe that it is not only the obligation of the member states to support the UN in meeting the global challenges and creating opportunities for all but a shared responsibility of all stakeholders. Organizations like WFUNA have been contributing meaningfully towards that end," said Smt. Swaraj during her speech. "In this context, the thrust of WFUNA's programs on the issues of sustainable development, education, youth and human rights are issues which the Government of India considers extremely important, both in the national and international context."
The WFUNA Foundation held a launch party on 3 March 2015 in New Delhi, India. Notable guests included Indian External Affairs Minister Hon. Smt. Sushma Swaraj, Director of United Nations Information Center for India and Bhutan Mrs. Kiran Mehra-Kerpelman, IFUNA Secretary-General Mr. Suresh Srivastava, WFUNA Treasurer Mr. Sundeep Bhutoria, Advisory Board Members Mr. Bharat Babbar, Mr. S.P. Kaira, Mr. Ayush Periwal, filmmakers and WFUNA Foundation trustees Mr. Aniruddha Roy Chowdury and Ms. Anandi Ghose.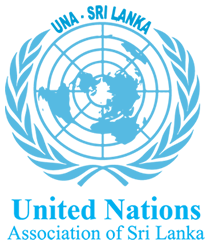 United Nations Association of Sri Lanka.
The National Secretariat General
39/1, Cyril Jansz Mawatha,
Panadura, Sri Lanka.
Phone : +94 38 2232 123
Email: secretarygeneral@unasrilanka.org